>>> Read more: Differences between front-load and top-load washing machines


5. Washing Machine Features & Settings

Here are some factors to consider when choosing either a front load or top load washing machine:


Delicates Care You Can Trust

Electrolux's specialised Gentle Care drum program protects your treasured garments, using a reverse cradle action, for a reduced wrinkle wash.

A Comprehensive Clean

Designed to protect every fiber, Electrolux's UltraMix technology optimally blends water, detergent and softener before entering the drum, conserving the life of your clothes.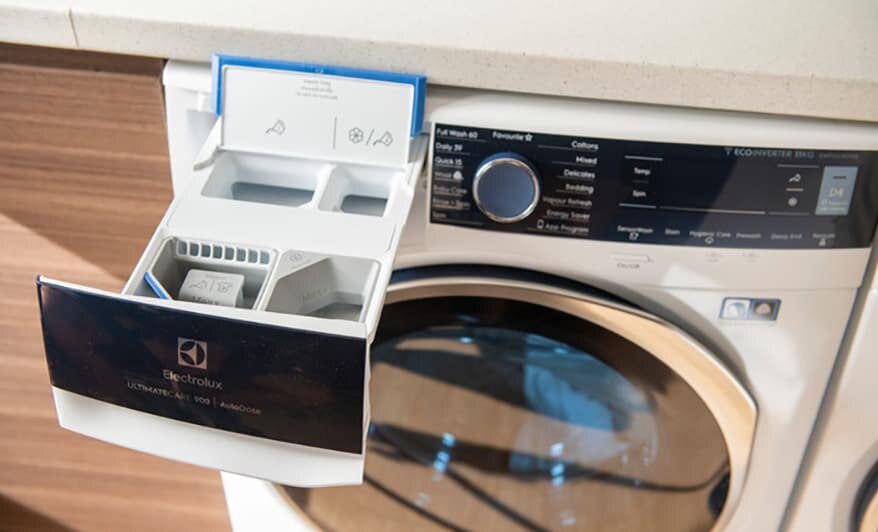 Automatically-tailored Washing Programme

The SensiCare system automatically optimises the programme for the actual laundry load to save resources and avoid overwashing. Smart sensors save the time, water and energy used, while ensuring even small loads are washed with precision.


Energy Efficiency

Electrolux EcoInverter technology reduces energy consumption by up to 75% while ensuring long lasting performance and quiet operation.


Hygienic And Gentle Cleaning

Vapour Care Technology adds a gentle spray of vapour to soften fabrics at the end of each cycle. Water vapour combined with a high-performance wash programme helps to remove bacteria from garments gently yet effectively.


Pre-Soaking Clothing For Longer Fresh Smell

The SoftPlus function pre-soaks and distributes clothing items evenly. Rest assured that every fibre is reached and every item feels soft and smells fresh for longer.


6. Cleaning Your Washing Machine

To maintain the performance of your washing machine, run a self-clean function regularly. Otherwise, you can manually clean your unit by running a hot cycle with vinegar, scrubbing the drum to remove residue and cleaning the coin trap and drainpipe. To prevent mould and prolong the life of the door or lid seals, leave them open between washes.


7. Register

Register your appliance today to stay updated on exclusive offers, services and safety notices.


8. Washing Machine Faqs

Our Frequently Asked Questions are here to help you know all you need to about the use, maintenance and care of your Electrolux appliances.


Question 1: How do I choose the correct washing machine settings?

Most washing machines have similar features as follows:
Regular/Normal Cycle: Advisable for whites, sportswear, underwear, socks and T-shirts. Though efficiently removing stains, Normal Cycle may cause coloured clothes to fade due to strong agitation speeds and hot water.
Delicates: For lightweight and delicate clothes. Make sure to check the labels as some delicate clothes are "dry-clean only". This feature is advisable for cotton blend sweaters, linen shirts and dri-fit sportswear.
Heavy Duty: This is recommended for heavily soiled clothing and muddy items. Heavy duty cycles offer longer, warmer washes and high-speed tumbling to make sure all the dirt is flushed out and removed.
Question 2: What's the difference between front-load vs top load washing machine?

Key difference lies in the door design. While front loaders have a door and laundry is placed inside the drum from the front, top loaders have a lid on top and laundry is added from above.
Front loading washers are becoming more popular since they not only save space but are also more economical because they consume less water, electricity and detergent.


Question 3: Can I add clothes to the front loader washing machine after the cycle has started?

It is now possible to add clothes mid-cycle with 'Pause and Add Clothes' function which is available on most Electrolux washing machines. After pressing the button, wait for the door to unlock, add your items and press 'Start/Pause' to recommence the wash cycle.


9. Support

Having trouble with your appliance? Looking for a manual? Head to our support page we are here to help.