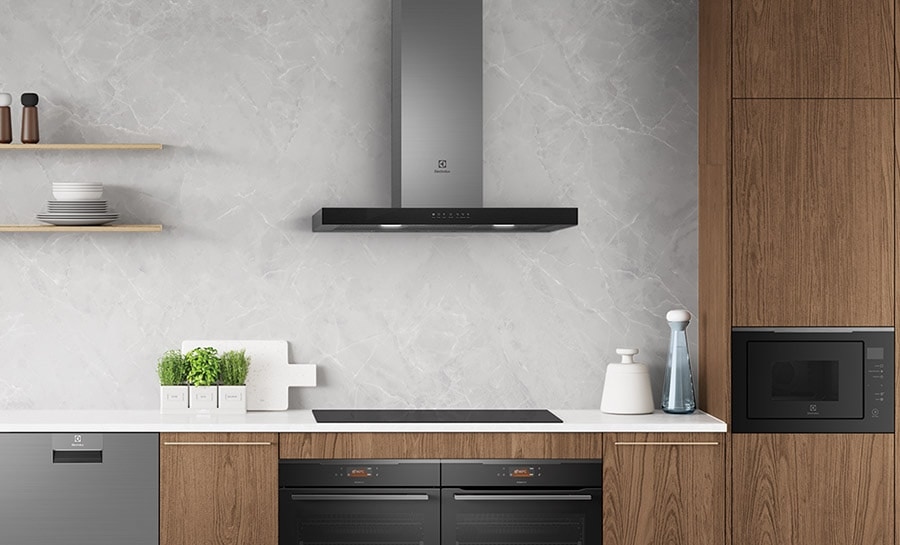 When it comes to cooking, we can produce a lot of different smells or smoke and fumes depending on the dish. These may linger in the air or discolour your cabinetry, as well as have negative effects on your health. This is when the kitchen hood comes in handy.
In addition to removing unpleasant odours while cooking, other functions of a kitchen hood include protecting your kitchen wall from grease and even adding a touch of luxury to your kitchen design.


There are several different styles of kitchen hood and ultimately it comes down to the layout of your kitchen and venting options. Read about types, capacity, and other must-know tips from our complete buying guide to know how to choose a good kitchen hood.


1. Kitchen hood design & sizing: Things to Consider

Kitchen layout & installation

When you start to think about your kitchen design you need to consider how you like to cook, as this should determine the location of your appliances.


Consider your cabinetry
Are you looking to have a more traditional design with your stove and oven paired one under the other or are you wanting to give your kitchen a more modern design by having your oven in a tower layout? We'd recommend positioning the kitchen hood close to your stove but far enough away that you could have two cooks in the kitchen, one taking care of the oven and the other the stove.


Size of kitchen
When it comes to selecting your kitchen hood, you may be limited to what area you have above your stove to use. Before you start looking at models, measure the space and kitchen ceiling so you can narrow down your selection criteria.
Besides, to choose a proper extraction rate, you should measure your kitchen area (height x width x depth) and multiply it by 10. The result is the extraction rate that may fit your kitchen size.


Work triangle or work zones
This choice will ideally come down to the size of your kitchen. When looking at a kitchen work triangle, you would have your appliances configured so that the line drawn between the refrigerator, cooking appliances, and sink/dishwasher creates a triangle which the cook can easily and efficiently move about the space.


Whether you have a small or large space, you may look to have the area broken up into 5 zones, consumables, non-consumables, cleaning, preparation and cooking zones, this allows the space to work in unison of each other.



Kitchen hood sizes
Space
When it comes to selecting your kitchen hood, you may be limited to what area you have above your stove to use. Before you start looking at models, measure the space so you can narrow down your selection criteria.


One that suits your stove
You ideally want a cooker hood that is exactly the same width as your stove or slightly larger. As it will need to be able to easily extract smoke and fumes whilst you are cooking. If your kitchen hood is too small, you will find that it'll struggle to keep up and this may cause lingering scents and fumes, or for your smoke alarm to go off.



2. Types of Kitchen Hoods to Choose From

Wall Mounted Chimney Kitchen Hood

Typically found in commercial kitchens, chimney kitchen hoods are a statement piece in any kitchen. With the unit being completely exposed and not installed into cabinetry, a chimney kitchen hood isn't for a household where you want your appliances to be heard but not seen.
Ideal for:
Large kitchen
Entertainer
Here are some features to consider when buying a chimney kitchen hood:


Sizes
60 - 90cm


Clear the air quickly
Our chimney kitchen hoods offer powerful extraction rates. Depending on the model, you can clear the air at a rate of 720 - 810 m3/hr kitchen hoods, ensuring your kitchen is clear of cooking odours, vapours and excess heat in no time at all.


Long-lasting LED lighting
With a low energy output and high illumination, our kitchen hoods give you a clear sight on your creations on your stove.


Easy to clean filters
Coming with aluminum micro-mesh filters that can be easily removed and cleaned safely in your dishwasher or hand washed with detergent and a cloth. This should be done at a minimum every six months, with the exception based on how often you cook. Some models have a clean filter indicator, so your kitchen hood will politely remind you it needs to be taken care of.

3 fan speeds with an added boost
Keeping the air clear with adjustable fan speeds is easy with touch controls when you need a quick increase in fan speed press the boost button.


Smooth stainless steel kitchen hood
With a choice of dark or natural stainless steel finishes, our kitchen hoods can be the statement piece in your kitchen.


Ducted for easy clearance
With the ability to have your kitchen hood ducted you are able to not only clear the smoke and fumes from the kitchen but the whole house with the exhaust flue taking them outside.
Equip your kitchen with our top-selling Electrolux chimney kitchen hoods below: