Electrolux's dishwasher buying guide will help you decide which dishwasher to buy to get an everyday job done - effectively and quietly. Capacity, performance, efficiency, and design are key things to consider, so let this buying guide help you on how to choose the right dishwasher for your family.


1. Kitchen design & layout for your new dishwasher

The work triangle is considered the gold standard of kitchen layout design. This refers to the sink (and therefore dishwasher), fridge and stove placement for efficient cooking and cleaning.

Taking a bird's eye view can help plan your work triangle (most are U or L shaped). Also consider storage options, strategically placed appliances, and map out how you'll move around.


2. Buy dishwasher with cutlery drawer or basket

Some models come with your typical cutlery basket, where you stand your knives, forks and spoons up vertically, while others come with a horizontal removable 15 setting cutlery drawer. The more flexibility in the design means the greater options you have for stacking and loading, so you don't have to hand wash a thing.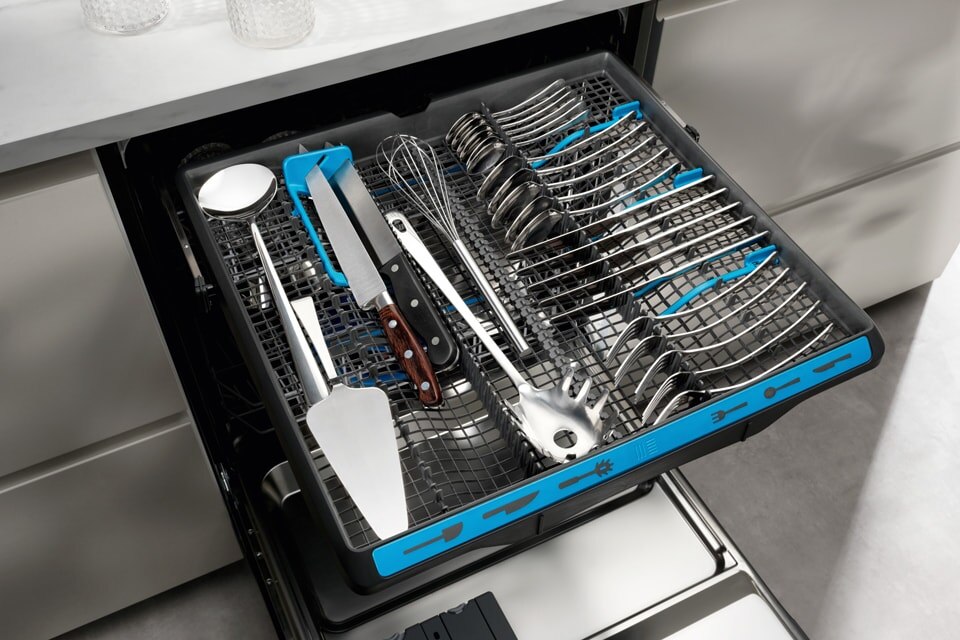 3. Dishwasher capacity

Dishwasher capacity is measured in 'place settings' a load can fit. A place setting counts as what you'd need to serve a three-course meal in dishes, cutlery, and glassware. Here's a guide.
1 - 2 people: a 6 - 9 place settings model is well suited to small households, especially if you dine out frequently, or have limited space.
3 - 4 people: a 9 - 12 place settings model is ideal for a medium-sized household or couple who works from home. Also comes in slimline.
5+ people: a 12+ settings model is best for large families, households who entertain frequently, or those with the kitchen space.
4. Types of dishwashers

Built-in Dishwasher

Most commonly installed, built-in dishwasher slides perfectly into the allocated kitchen space, typically under the benchtop to create a specifically designed custom-built look. Built-in dishwashers can be integrated (concealed behind cabinetry) or semi-integrated (concealed with the front control panel visible) and are available in three finishes (stainless steel, white or black).

Consider these following factors when buying a built-in dishwasher:


Capacity
13 - 15 place settings


Elevating dishwashing to new heights
Designed for convenient unloading and efficient stacking, Electrolux's ComfortLift™ technology offers a gentle slide and lift function for easy access to the lower basket, offering a favourable height, before using the ComfortRails to return the rack gently back into place.


Powerful washing
No stubborn food residue will be missed thanks to Electrolux's ProClean™, an ingenious double rotating satellite spray arm, which offers three times the coverage than standard. Add to that it's five spray levels and even the dirtiest dishes will come out clean - no pre-rinsing needed.


The secret to dry touch dishes
Electrolux's superior ProClean™ technology uses AirDry, a natural airflow function to deliver dry to touch dishes and sparkling glassware. The door automatically opens up 10cm at cycle completion, allowing air to do the work of a tea towel.


Spotless glassware every time
Let your special occasion glasses become any occasion glasses, with Electrolux's SoftGrip rubber clamps that gently secure wine glass stems, while the SoftSpikes support against unwanted tilting. Combined with a dedicated glass washing program, sparkling glassware is guaranteed.


Space when and where you need it
Electrolux's changeable design means bulky items now have somewhere to fit, with the fully adjustable FlexiLift upper basket, accommodating all types of loads.
Buy the best built-in dishwashers with our recommended products below: